Links to More Great Websites!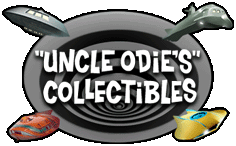 "UNCLE ODIE'S" COLLECTIBLES!
                                                                                                       a website dedicated to the collection and preservation of
                                                                                                       Irwin Allen shows, toys, collectibles, fan items, and much more.
                                                                                    

Fanderson
The Official Gerry Anderson Fan Appreciation Society


CultTVMan's Sci-Fi Modeling
The MOTHERLODE of Sci-Fi Modeling! CultTVman has pages and pages of cool built-ups, techniques, tricks, message boards, chats - anything and everything for modelers of SF subjects, including Gerry Anderson vehicles.


Starship Modeler
A voluminous resource for Sci-Fi modelers online. Filled with photos, reviews, articles, and a great place to catch up on SF model and kit news, Starship Modeler is a great place to spend a few hours gaping in awe at the work of talented modelers!
UFO Series Home Page
Marc Martin's comprehensive UFO website - the first and still the best!


Eagletransporter.com
Enter the Pod-U-Like Contest and win fabulous prizes, or just yak about Eagles all day long!
TV Century 21
Simon Wickes' TVCentury21.com is a great website for all things Anderson - comprehensive news and reviews, articles and more. Updated frequently.
Irwin Allen News Network
Up to Date Coverage of all the Fantasy Worlds of Irwin Allen!